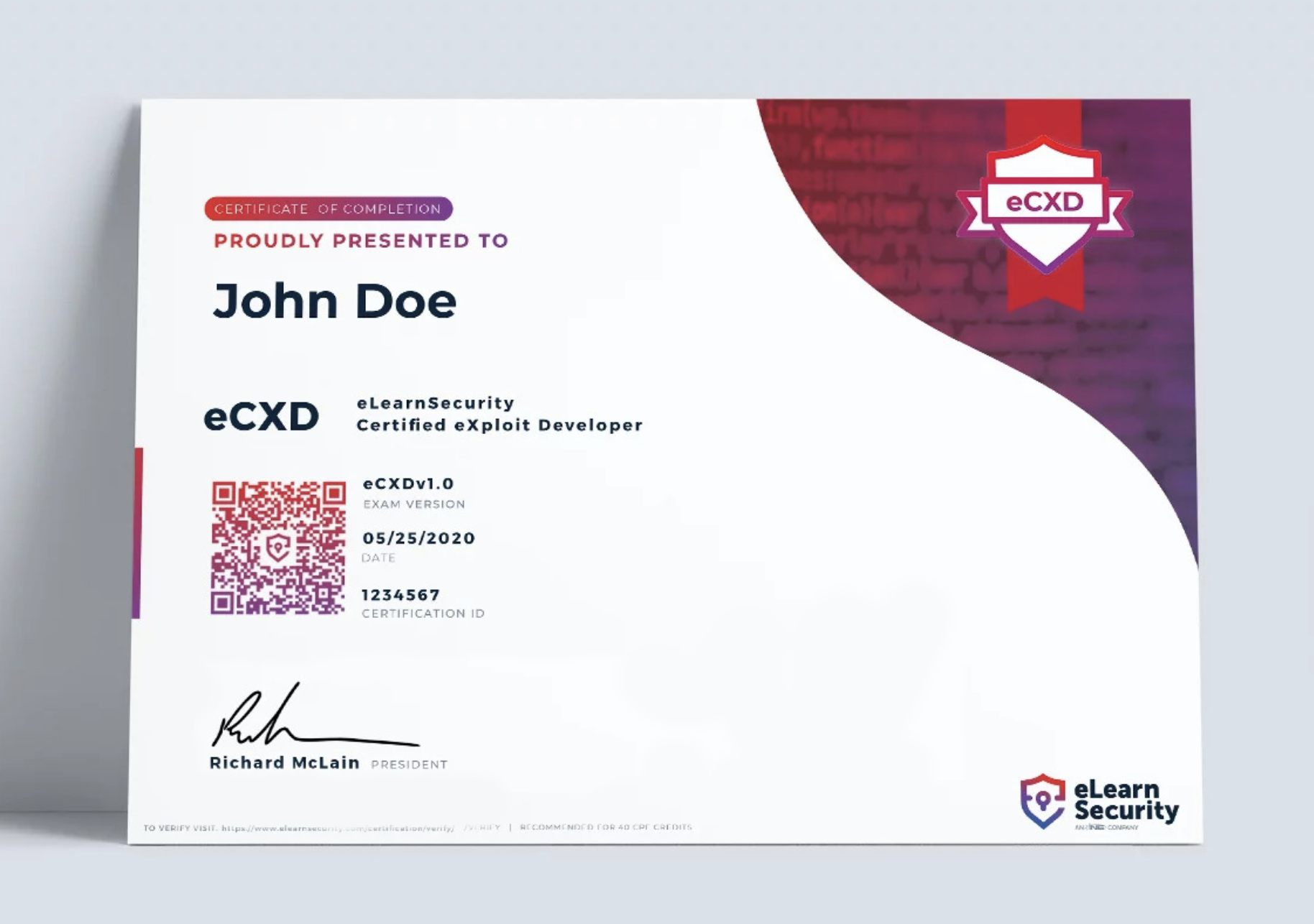 Overview
The eLearnSecurity Certified eXploit Developer (eCXD) tests a student's capabilities on Windows and Linux exploit development and software vulnerability identification in general. Exploit developers can prove their advanced skills through a challenging, scenario-based exam that requires both knowledge and critical thinking.
WHY eCXD?
Here are some of the ways the eCXD certification is different from conventional exams:
Instead of putting you through a series of multiple-choice questions, you are expected to perform a software vulnerability identification and exploitation against actual Windows and Linux software.The exam engagement is modeled after real-world software exploitation scenarios and features binaries protected by multiple anti-exploit mechanisms, hardened hosts and other limitations.
Not only are advanced methodologies required to exploit the provided binaries and executables, you are expected to propose alternative exploitation paths as part of your evaluation. A skillset like this will make you a valuable asset in the corporate sector.
Only individuals that provide proof of their exploitation attempts are awarded the eCXD Certification.
Knowledge Domains
By obtaining the eCXD, your skills in the following areas will be assessed and certified:
Windows and Linux internals
Reverse engineering (x86 and x64 platforms)
Software debugging
Shellcoding
Windows and Linux exploit development (including scripting knowledge)
Bypassing modern anti-exploit mechanisms (ASLR/PIE, Stack Cookie, NX/DEP, RELRO etc.)
Exploiting hardened hosts and overcoming limitations
PREREQUISITES
The eCXD certification tests a candidate's technical understanding of x86/x64 Assembly, programming concepts, reverse engineering, software debugging and Windows/Linux internals. Anyone can attempt the certification exam, however here are the skills necessary to a successful outcome:
Letters of engagement and the basics related to an exploit development engagement
Windows and Linux internals
Software debugging
x86 and x64 reverse engineering as well as shellcoding
Knowledge of Windows and Linux exploit development processes and methodologies
Bypassing modern anti-exploit mechanisms (ASLR/PIE, Stack Cookie, NX/DEP, RELRO etc.)
Ability to perform exploit development against hardened hosts
Overcoming limitations during exploit development
Tools such as Immunity Debugger, x32dbg, Mona, Pwntools, GDB, Ropper, etc.
Good scripting skills (Python, Perl, Ruby etc.)
The exam
eLearnSecurity's eCXD is the only certification for Exploit Developers that evaluates your ability to use advanced Windows and Linux exploit development techniques, inside a fully featured and real-world environment.
The candidate will receive a real-world engagement within INE's Virtual Lab environment. You will need an Internet connection and VPN software in order to carry out this exam.
Certification Process
There are two ways to become an eCXD:
1. Subscribe to INE's Cyber Security Pass and enroll in the Exploit Development Student learning path.

The Exploit Development Student path prepares you for the eCXD exam through a blend of theory and hands-on practical sessions in INE's Virtual Labs.
2. Attempting the certification without training
Candidates that feel prepared to demonstrate their practical and professional skills can purchase an eCXD voucher and go through the certification process at their own risk.
Whether you are attempting the eCXD certification exam on your own or after having attended one of our approved training courses, you will need to follow these steps to get a certificate: